It is with great sadness that I report the death of Bebe Barron on April 20, 2008 at the age of 82, of natural causes. Bebe was the last of the pioneering composers of classical studio electronic music. She was a close friend, an enthusiastic colleague, and a most gracious lady.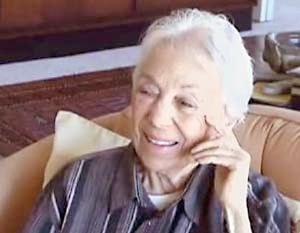 Bebe Barron was born Charlotte Wind in Minneapolis, on June 16, 1925. She received an MA in political science from the University of Minnesota, where she studied composition with Roque Cordero, and she also spent a year studying composition and ethnomusicology at the University of Mexico. In 1947 she moved to New York and, while working as a researcher for Time-Life, studied composition with Wallingford Reigger and Henry Cowell. That same year, she met and married Louis Barron (1920 - 1989). Shortly thereafter, the Barrons began their experiments with the recording and manipulation of sound material by means of a tape recorder that they received as a wedding gift. They created a private studio in New York and, in 1955, composed the first electronic music score for a commercial film, Forbidden Planet. In 1962 the Barrons moved to Los Angeles; they divorced in 1970. In 1973, Bebe married Leonard Neubauer, a screen writer. Bebe became the first Secretary of the Society for Electro-Acoustic Music in the United States (SEAMUS) in 1985, and also served on the Board of Directors. In 1997 Bebe was presented the SEAMUS Award for the Barrons life work in the field of electro-acoustic music. She is survived by her husband, Leonard, and her son, Adam.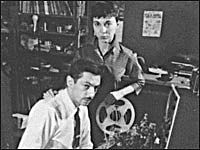 Bebe's last public appearance was on January 12, 2008, at an event held at the Hammer Museum in Los Angeles, celebrating the work of her good friend, Anais Nin. Bebe was too ill to speak in public at this point, but she agreed to be interviewed for a video piece that was shown at the event. This is her final interview, and you can see it on YouTube.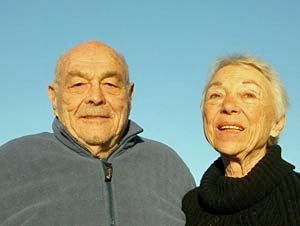 Bebe's final composition, Mixed Emotions (2000) uses computer generated sound material made in the CREATE studios of the University of California at Santa Barbara. She brought the material back with her to Los Angeles where, in the studio of composer Jane Brockman, she finished the work with Ms. Brockman doing the final editing, mixing, and mastering.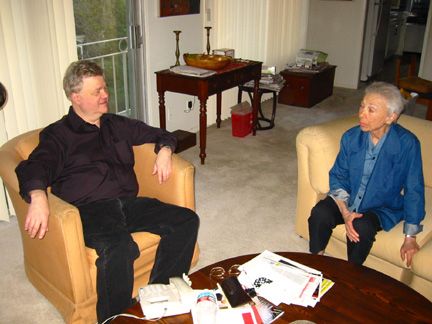 I first met Bebe Barron in the middle 1970s; I don't remember exactly when, but I think it was around 1975. I had asked Bebe and her former husband and composing partner Louis to attend a showing of Forbidden Planet that I had arranged as part of a class at CalArts. They agreed to do it, and I quickly became good friends with Bebe and we remained close over the years.

In writing about Bebe Barron, it's impossible not to focus on the pioneering work that she and Louis did in electronic music. They began their experiments in 1948, shortly after they were married. This early work was done using a tape recorder, preceding the work of Luening and Ussachevsky and the switch from disks to tape by Pierre Schaeffer and the GRM. But, to my knowledge, the Barrons' early experiments did not result in any completed works, a state of affairs not uncommon with early pioneers in the field. In 1949 they set up one of the earliest private electro-acoustic music studios and began their experiments with electronically generated sounds. They built their own circuits which they viewed as cybernetic organisms, having been influenced by Norbert Weiner's work on cybernetics. The circuits, built with vacuum tubes, would exhibit characteristic qualities of pitch, timbre, and rhythm, and had a sort of life cycle from their beginnings until they burned out.  The Barrons recorded the sounds from the amplification of these circuits and this formed the basis of their working library. They also employed tape manipulation techniques as part of their compositional procedures. The sound qualities of these various amplified tube circuits and the tape manipulations that they underwent formed the musical language that the Barrons created in their studio. Unlike some of the work being done elsewhere, the Barrons' music reveals long phrases, often stated in tape-delayed rhythms, with the stark finesse of the tube circuit timbres. They created a style that was uniquely their own yet married to the technology they were using.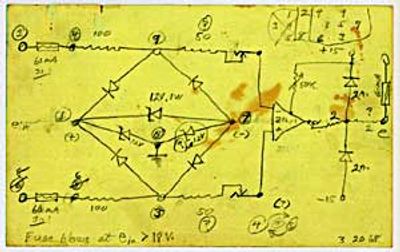 The Barrons earliest finished work, Heavenly Menagerie (1951) does not seem to have survived in a complete form. But their score for Ian Hugo's film Bells of Atlantis (1952), based on a poem by Anais Nin, who appears on screen, does exist on the film sound track. This may be the earliest extant work of the Barrons and presages what was to come with Forbidden Planet, the music for which was composed in 1955, the film being released the next year.The music for Forbidden Planet is truly a landmark in electro-acoustic music. This was the first commercial film to use only electronic music, and the score for the movie displays an attitude towards film scoring that was different from anything that had happened before. In Forbidden Planet, while there are themes for characters and events in the film, as was traditional in the scoring of that day, the themes are composed and perceived as gestalts, rather than as melodies in traditional movie music. Even more important is the fact that the scoring of Forbidden Planet breaks down the traditional line between music and sound effects since the Barrons' electronic material is used for both. This not only creates a new type of unity in the film sound world, but also allows for a continuum between these two areas that the Barrons exploit in various ways. At some points it's actually impossible to say whether or not what you're hearing is music, sound effect, or both. In doing this, they foreshadowed by decades the now common role of the sound designer in modern film and video.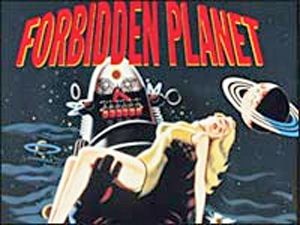 The Barrons composed many other works for tape, film, and the theater in the 1950s. Their studio became the home for John Cage's Project of Music for Magnetic Tape, and they assisted in the creation of Cage's first chance piece Williams Mix (1951-52), as well as works by other members of the group such as Earle Brown and Morton Feldman. As a studio for the creation of their own and other composers' works, the Barrons' studio served as a functioning center for electro-acoustic music at a time when there was no institutional support of the medium in the United States. It's curious, then, that, for many years, the Barrons, their studio, and their works were largely overlooked by composers and historians in the field. Fortunately, that injustice has since been corrected, and, in 1997, it was my great honor to present to Bebe and, posthumously, to Louis, the SEAMUS Lifetime Achievement Award. Bebe was involved with SEAMUS from the very beginning of the organization. She was one of the ten original members who responded to my organizational call and met at CalArts in November of 1984 to form the group, and she was SEAMUS's first secretary. There may have been a little strong-arming on my part to get her to be involved so actively, but Bebe was always ready to support the cause of electro-acoustic music in whatever way she could.

Bebe created a firm legacy in her music. If the importance of one's work is to be judged in any regard by its influence, acceptance, longevity, and innovative qualities, then the score for Forbidden Planet is an enormous success. It remains the most widely known electro-acoustic music work on this planet. For me, Bebe Barron will always be the First Lady of electronic music.